May- Changes on the farm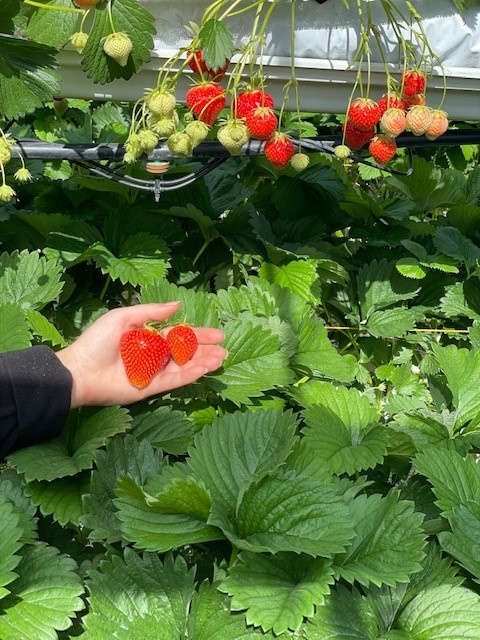 To celebrate Earth Day, we show cased our brand-new pond on the farm to entice all the bugs, birds, insects, and bees (check it out in the photo/link attached).

Additionally, to the pond, Phil and Louise have been busy planting 150 individual native mixed hedge plants within the chicken paddock.
The nest boxes are also up and ready for the blue tits, and the swallows have migrated over to our farm barn early this year in time for nesting.

Fresh Strawberries

We saw our very first ripe strawberry on the last day of April and we have now hit off our strawberry season and are starting to deliver to our local shops. Our PYO strawberry crop is not quite ready as they are awaiting flower, but we will be posting updates on our social media so be sure to keep updated for when you can come and pick your own strawberries!

The farm has also had a makeover with a new splash of paint on the Packhouse and outbuildings as well as a new tarmac road for smoother deliveries on to the farm.

Road trip to Cardiff (business proposal)-

At the beginning of May, Phil and Kate took a trip down to Cardiff to meet the buyers and present who we are to Fresh, Local and Wild. This could be a potential new partnership with the business who plan to open several stores around the UK selling local and nationwide produce. We are keeping are fingers crossed for the feedback we will get shortly from them.

Updates for the trade season-

As Covid restrictions are being lifted, we are seeing a change in our customer base with catering establishments preparing to open- we wish them all the best after a long hard year!