COVID-19 Update – Boddington's Berries – Business as Usual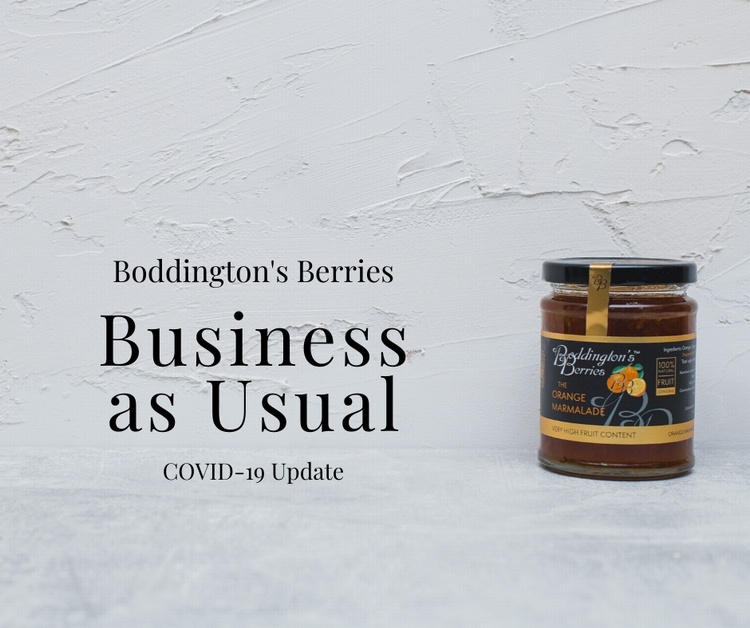 Dear friends of Boddington's Berries,

The health and wellbeing of our customers, team, and partners is always our top priority. As the situation of the Coronavirus (COVID-19) unfolds we are continuing to adapt and follow the guidance from the government to help keep everyone as safe as possible. We are regularly reviewing the situation and keeping in contact with our customers and suppliers.

As we are a small family run business, where the owners live on-site, production will continue for as long as possible should other members of staff be incapacitated. The family is well versed in all areas of the manufacturing and production of our products.

On current information, we are advised that the virus only lives outside of the body for a few hours and should not be present on any of our packagings by the time our product reaches your company. Should Coronavirus result in a lockdown of our area/country then we will abide by the rules of the government and relating departments.

The future will be testing and ever-changing for us all. Our thoughts go out to anyone who has been personally affected, and we hope that you and your families are safe and well.

In the meantime, we would like to say a personal thank you to all our customers for your continued support.

If you have any questions or queries, please don't hesitate to get in touch.

Best wishes,

From all at Boddington's Berries.