Boddington's Berries has been Certified Carbon Neutral by Positive Planet.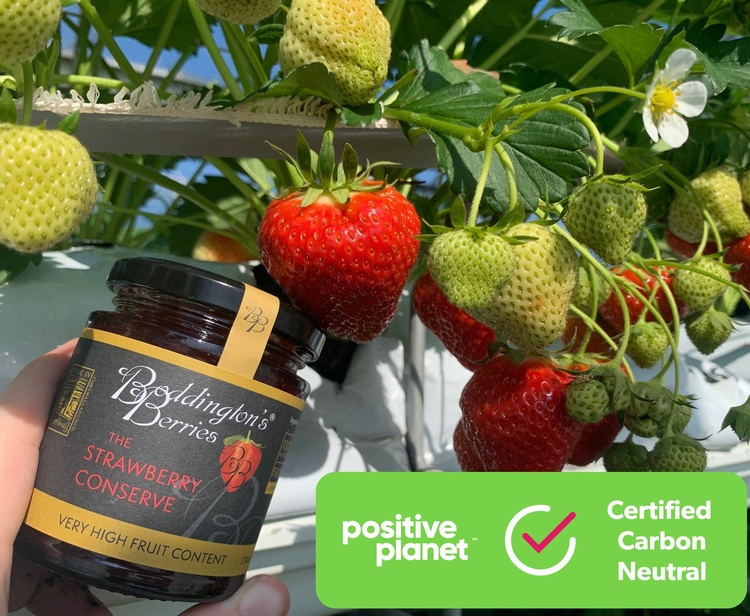 As a company we have been increasingly conscious of our carbon footprint, and with the help of Positive Planet, we have now measured this. It has been an interesting exercise and as a result we have now achieved Carbon Neutral status. This means that we are measuring, offsetting and committing to reduce our future carbon emissions. We've also been found to contribute to at least 9 of the United Nations Sustainable Development Goals!

Having offset last year's carbon emissions, we have begun looking at ways to reduce our impact, and as a start, in January we took delivery of a hybrid electric van for our deliveries around the county; making those journeys greener. We have also started labelling with a bio-degradable paper label on our 227g retail jars, making these now completely sustainable; the jar and lid being widely recycled through the council's collection schemes. As well as this we are moving to paper / biodegradable packing tape, and have long been re-using packing boxes and fillers for sending out parcels. We have also started to implement new systems, that will reduce our paper and ink used in the office.

2022 will be the third year that we have packed our fresh fruit into craft card punnets, having already eradicated plastic packaging for these. The plants are still managed by hand – all the planting, weeding and trimming, is still done this way, as it was in the 1940's. On the growing side, we have also cut down on our pesticide use considerably over the years, and use biological controls where ever we can.

Looking to the future we hope to look at water catchment schemes and renewable energy.